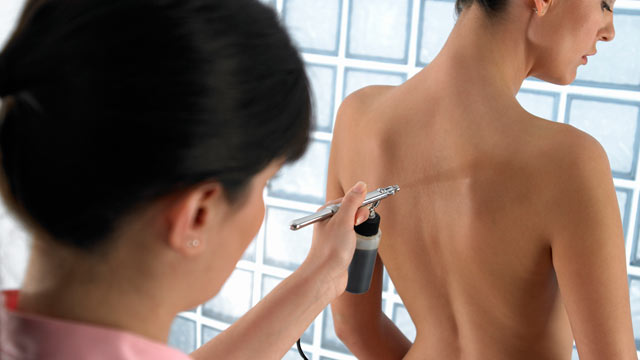 With a myriad of tanning options available to choose from on the market, airbrush tanning has become increasingly popular as people continue to explore other alternatives such as fake tan or visiting a tanning salon. Are you looking for the best airbrush tanning service provider to give your skin that flawless look? Consult with Gotham Glow today.
To put aptly, airbrush tanning is a tan applicator similar to an airbrush makeup but with lasting effects. The ingredients pass through a hose by compressed air. With significant improvements in the spraying mechanism, the airbrush tanning method has become the preferred choice largely due to its ability to produce very real and smooth colors with almost no noticeable variation.
Dihydroxyacetone (DHA) is a substance present in the tan solution mixed together with a bronzer which helps to further enhance your skin tone. A bronzer is often included in the solution so as it's sprayed, the application is clearly visible so you do not have to worry about missing any spots. Typically the bronzer will be visible until you take your first rinse. After your rinse, a good way to think of your tan is just the newly pigmented top layer of your skin.
How dark your tan is will depend on the DHA levels present in the tanning solution, the darker the tan, the more DHA is present in it and vice versa.  Many self tanners are concentrated DHA and often don't give the subtlety of tone that comes with an airbrush. Airbrush tanning has been certified safe by the FDA and has been in use for more than 20 years now. There are no reported, known or documented side effects from DHA, except skin irritation reported by those allergic to DHA.
The lifespan of the tan ranges from about five to ten days, and like all other tans it will begin to fade away as time passes. Applying moisturizing lotion to your skin can prolong the lifespan of an airbrush tan. You should also know that long showers will shorten the lifespan of your tan. The best tip after your airbrush tan is to treat your top layer of skin as delicately as possible. Skip steamy showers and pat dry after and avoid exfoliation, excessive sweating, and massage for the duration of  your tan.